Please use this identifier to cite or link to this item: https://hdl.handle.net/20.500.12348/4839
Quick fish sampling guide for disease diagnostics - Blood sampling guide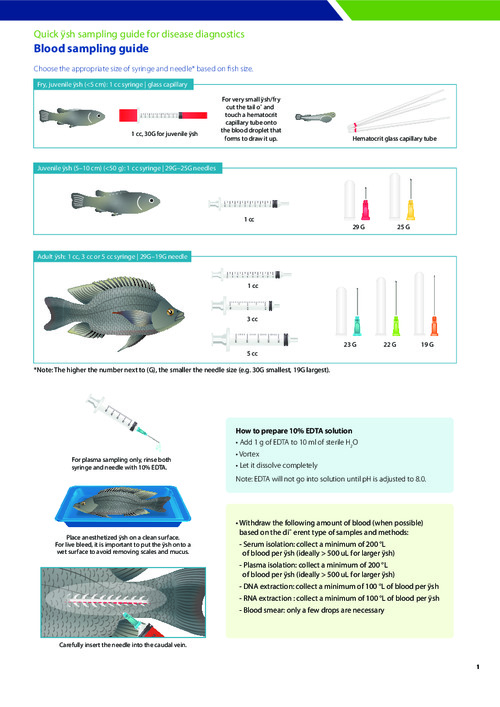 Abstract
Fish blood sampling requires specific techniques and skills that are fundamental for all kinds of analyses such as haematology, chemistry analysis, parasitology/bacteriology investigation, antibody titration, molecular diagnostic and many others. WorldFish and partners developed this quick guide on blood sampling from fish for: (1) blood serum isolation, (2) blood plasma isolation, (3) blood DNA extraction, (4) blood RNA extraction, or for (4) blood smear preparation on microscope slide.
Author
Khor, L.

Delamare-Deboutteville, J.

Ali, S.E.

Chadag, V.
Subject(s)
AGROVOC Keywords
Related items
Showing items related by title, author, creator and subject.
Chiayvareesajja, J.; Roed, K.H.; Eknath, A.E.; Danting, J.C.; De Vera, M.P.; Bentsen, H.B.

(

1999

)

The objective of the present investigation was to determine the genetic variation in lysozyme activity and SH activity in blood serum from a family material of Nile tilapia (O. niloticus) and to study the genetic associations ...