Please use this identifier to cite or link to this item: https://hdl.handle.net/20.500.12348/4977
Bangladesh Safe and Sustainable Aquatic Food Project Workshop - Embedding One Health to Support Aquatic Food Production during Covid-19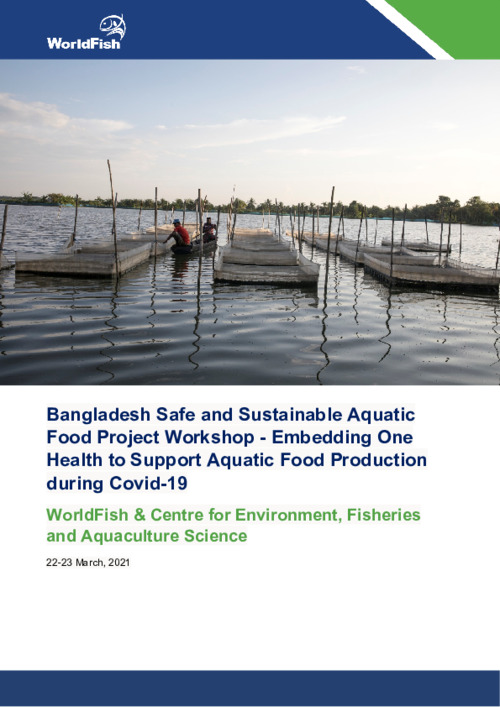 Abstract
One Health is a simple philosophy reminding us that the health of all life on earth is inter-connected. It considers how maintenance or alteration in 'health status' of one part of the environment-human-organism triad affects other parts of that system - a concept amply highlighted during the current Covid-19 pandemic where intricate relations between human health, wildlife and the environment have been exposed. WorldFish (WF), Bangladesh, and Centre for Environment, Fisheries and Aquaculture Science (Cefas), UK jointly organized a two-day virtual workshop on 22nd and 23rd March 2021 at online platform to introduce a new One Health (OH) concept to Bangladeshi government competent authority departments, industry stakeholders and academicians. This workshop was inaugurated and welcomed by both Neil Hornby, CEO, Cefas, UK and Christopher Price, Regional Director-South Asia and Country Director, WorldFish Bangladesh. The One Health Aquaculture workshop was a critical step towards a unique Bangladesh approach to One Health, ensuring that all stakeholders have a shared vision and clear roadmap for implementing One Health strategies for disease surveillance, response, preparedness, workforce, environmental protection and, prevention and control activities in their current and future areas of focus. The ultimate aim of this workshop was to formally introduce the concept of the One Health Aquaculture (OHA) approach to the authorities and stakeholders responsible for policies associated with environmental, human and animal health in national aquatic food production in Bangladesh. It is intended to support aquatic food production and the trade aspirations of the Government of Bangladesh and, where suitable, to build a lasting framework for future engagement.
Author
Hossain, Z.Z.

Urmi, U.

Delamare-Deboutteville, J.

Debnath, P.P.

Rahman, M.M.

Chadag, V.
AGROVOC Keywords
Related items
Showing items related by title, author, creator and subject.
Chadag, V.; Delamare-Deboutteville, J.; Beveridge, M.; Marwaha, N.; Vishnumurthy Mohan Chadag: 0000-0002-2574-284X; Jerome Delamare-Deboutteville: 0000-0003-4169-2456; Nisha Marwaha: 0000-0001-9822-4085

Aquaculture productivity is limited by the introduction and spread of infectious fish diseases, which compromise fish farming livelihoods and food and nutrition security in Asia and Africa. Epidemiological tools provide ...

Simmance, F.; Kanyumba, L.; Cohen, P.J.; Njaya, F.; Nankwenya, B.; Gondwe, E.; Manyungwa-Pasani, C.; Chimatiro, S.; Byrd, K.A.; O'Meara, L.; Robinson, J.; Ahern, M.; Wesana, J.; Kolding, J.; Cowx, I.; Gilbert, R.; Bunting, S.; Nico, G.; Franz, N.; Mills, D.J.; Pincus, L.; Chan, C.; Siamudaala, V.; Fiona Simmance: 0000-0001-9505-0198; Philippa Jane Cohen: 0000-0002-9987-1943; Kendra A Byrd: 0000-0003-4528-752X; Joshua Wesana: 0000-0003-1970-6241; Stuart Bunting: 0000-0003-0151-7733; David Jonathan Mills: 0000-0003-0181-843X; Lauren Pincus: 0000-0002-8883-7264; Chin Yee Chan: 0000-0001-8615-2678

(

2021

)

An evidence policy brief on the contribution of small-scale fisheries to a healthy and sustainable food system in Malawi.

A curated collection of journal articles, briefs, and other publications for the month of December 2021.